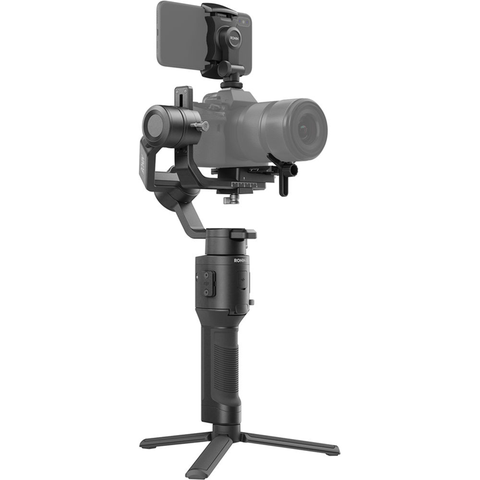 DJI
DJI Ronin SC 3-Axis Gimbal Stabilizer
Product Id CAADJI0068
Traveller Price
Price:

$576.45 NZD
Tax inclusive price
View all DJI
Sold by PB Tech
Description
DJI Ronin SC 3-Axis Gimbal Stabilizer Holds Mirrorless Cameras, One-Handed Operation

The DJI Ronin-SC Gimbal Stabilizer brings many improvements over its predecessor, the Ronin-S, with this smaller and lighter stabilized, three-axis single-handle gimbal, designed for small mirrorless cameras under 4.4 lb. Though the Ronin-SC is smaller, it packs an abundance of features, design enhancements, and technology inside its compact form. The gimbal features stabilization, pan, tilt, and roll control, as well as 360° continuous panning to create steady 3D/360° motion shots.
On its own, the gimbal weighs only 2.4 lb, so it is ultra-portable and makes it easier to hold the gimbal with a mounted camera for longer periods of time. It features two locking modes for balancing your camera and for storage. The sliding quick release camera plate makes it easy to rebalance your camera after you've moved to a new location-balance your camera in the balancing lock position, unmount your camera with the plate, put the gimbal in storage mode and travel, take the gimbal out and remount your camera, unlock and turn the gimbal on and voilà, your camera will still be balanced.
The Ronin-SC features a record button and a joystick for precise gimbal control, as well as a re-center front trigger button to bring the gimbal back to its default position. There is also an M button that you can press and hold to enter Sport Mode, which provides fast tracking response when recording action sequences. Using the Android or iOS app over Bluetooth 5.0, Active Track 3.0 has been updated to help users track a subject with the gimbal without having to use any controls at all. Another handy function is DJI's Force Mobile, which allows you to control your gimbal's motion when it's mounted on a rig or tripod using the gyroscope of your smartphone, allowing you to perform more precise gimbal movements using your own natural motion. Other built-in features include time-lapse and motion-lapse modes.
The Ronin-SC is powered by a 2450mAh rechargeable 18650 LiPo battery built into its handle, which lasts up to 11 hours on a single charge. It is charged via a USB Type-C port and can also provide camera control such as run/stop or focus pulling using one of the included multiport USB cables connected to a compatible camera. There are also 1/4"-20 and 3/8"-16 mounting threads on the handle to add accessories such as the included smartphone holder.
Also included with the Ronin-SC are an extended grip/tripod, camera riser, lens support, port cover, Allen wrench, quick release plate with 1/4"-20 camera mounting screw, an M4 screw, a multicamera USB control cable, a multicamera USB Type-C control cable, a USB Type-C charging cable, a USB Type-C to micro-USB adapter, and a storage case.
Automated Creative Features
Panorama
Use the Ronin-SC to capture 360° panning and rolling panoramic shots using precise gimbal movements.
Force Mobile
Use your phone's gyroscope to motion-control the gimbal movement of the Ronin-SC with ultra-low latency, offering a precise and intuitive control experience.
Time-Lapse and Motion-Lapse
Using the DJI Ronin app for Android and iOS you can control your camera to take photos at specific intervals which, when combined and sequenced in post, can yield creative time-lapse movies. You can also pre-set a path for the gimbal to follow during time-lapse photography inside the app.
Tracking
With Active Track 3.0, you can program a repeatable gimbal movement and follow your subject without operator input.
General Features
Auto Calibration
When Auto Calibration is enabled, the gimbal will automatically set an appropriate motor stiffness value based on the weight of the mounted payload.
Offset Roll Motor
By offsetting the roll motor, the Ronin-SC holds the camera above the roll axis, leaving the camera's LCD screen unblocked. This design also minimizes the camera shake that occurs when transitioning from upright to underslung modes and vice versa.
Modular Design
The Ronin-SC was built to be modular. Direct-connected and wireless accessories are supported.
Versatility
The Ronin-SC can mount onto an RC buggy for low-angle shots or even act as a stabilized remote head when mounted to a jib.
Multitasker
Both 1/4"-20 and 3/8"-16 accessory mounts are allocated on the Ronin-SC, providing full support for add-ons such as a microphone, LED light, or a wireless video transmitter.
Additional Features
- DJI specialized gimbal drive motors with encoders
- Bluetooth 5.0 communication
- Hardware joystick and support for virtual joystick operation
- Support for time-lapse, track, and panorama
- Sport mode support
- Roll 3D / 360° rotation support
- Quick record function

Gimbal

Number of Axes
3-Axis (Pitch, Roll, Yaw)

Rotation Range
Yaw (Pan): 360°
Pitch (Tilt): 280° (-95 to 185°)
Roll: 315° (-202.5 to 112.5°)

Follow Speed Pan:
180°/s
Tilt: 180°/s
Roll: 180°/s

Load Capacity
4.85 lb / 2.2 kg

Connectivity

Ports
1 x USB Type-C (Power) Input
1 x CAN (Control) Input

Wireless Frequency
Video: 2.4 GHz (2.4 - 2.483)

Wireless Protocol
Bluetooth 5.0

Battery

Battery Type
1 x Built-In

Capacity (mAh)
2450 mAh

Capacity (Wh)
17.64 Wh

Battery Runtime
11 Hours

Battery Chemistry
Lithium-Ion Polymer (LiPo)

Voltage
7.2 VDC

Power

Operating Current
0.16 A

Environmental

Operating Temperature
-4 to 113°F / -20 to 45°C

General

Mounting
1 x 1/4"-20 Female
1 x 3/8"-16 Female

Dimensions
8.66 x 7.87 x 2.95" / 220 x 200 x 75 mm (Folded)
14.57 x 6.5 x 5.91" / 370 x 165 x 150 mm

Weight
2.43 lb / 1.1 kg (with Handlebar)
Packaging Info
Package Weight
4.9 lb

Box Dimensions (LxWxH)
15 x 13 x 3.75"
Allowances
As a domestic traveller you will not be entitled to any duty free allowance and personal goods concession.
You are however able to purchase any item(s) on The Mall and take them with you on your domestic flight but please bear in mind :
If you purchase for a flight that is departing from Auckland Airport, your items will need to fit into your carry on luggage or be safely packed into your checked in luggage

New Zealand's domestic flight carriers have restrictions when it comes to the weight and size of your carry on luggage and what can be carried on board. For more information see Cabin Allowances.

If you purchase for a flight that is arriving into Auckland Airport there are no restrictions as you will be collecting your order after your flight has landed.
Click & Collect
Your order can be picked up from The Mall's Collection Point in the Domestic Terminal before you pass through security, located between 3 Wise Men and Travelex. See map
You will need to bring your order confirmation email and your driver's licence or valid photo identification to collect your order.
If you purchase for a flight that is departing from Auckland Airport, your order will be ready to collect 1 hour before your flight departs. Your order must be collected at least 30 minutes before you depart. If you purchase for a flight that is arriving into Auckland Airport, your order will be ready to collect when you arrive.
Now, you can also place an order without traveling. Select 'Pick Up On Arrival' when adding items to cart and use the dummy flight number NZ420 as the flight code. You can select a pick up date that works for you.
When you collect your order you will have the opportunity to inspect your items and sign for them. If you are not fully satisfied with an item then our Collection Point team will be able to assist you with any returns. Our Returns & refunds provides information on how this works and also outlines the individual Retailer's returns & refunds policies.
DJI
DJI Ronin SC 3-Axis Gimbal Stabilizer
Traveller Price
Price:

$576.45 NZD
Tax inclusive price