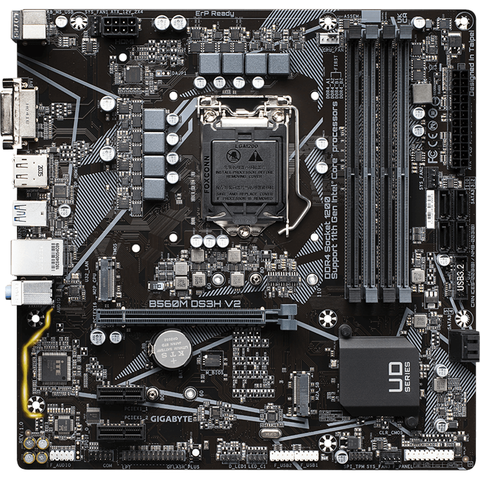 Gigabyte
Gigabyte B560M DS3H V2 mATX Form Factor,
Product Id MBDGBM57202A
Description
Gigabyte B560M DS3H V2 mATX Form Factor, For Intel 10th/11th Gen LGA1200, B560, 4XDDR4 Dimm, 2XM.2, Back I/O: 5XUSB,1XType C, DVI, DP. HDMI, PS2, Lan, HD Audio, Internal I/O: 2XUSB 2.0, 1XUSB 3.2, 1X12V RGB Header, 1X5V A-RGB Header

B560M DS3H V2
Intel® B560 Ultra Durable Motherboard with Direct 6+2 Phases Digital VRM, Full PCIe 4.0* Design, PCIe 4.0 M.2, GIGABYTE 8118 Gaming LAN, 8-ch HD Audio with Audio Caps, USB TYPE-C® , RGB FUSION 2.0, Q-Flash Plus
- Supports 11th and 10th Gen Intel® Core™ Series Processors
- Dual Channel Non-ECC Unbuffered DDR4, 4 DIMMs
- Direct 6+2 Phases Digital VRM Solution with Low RDS(on) MOSFETs
- Dual Ultra-Fast NVMe PCIe 4.0/3.0* x4 M.2
- GIGABYTE Exclusive 8118 Gaming LAN with Bandwidth Management
- USB 3.2 Gen1 Type-C® for Fast and Versatile Connections
- High Quality Audio Capacitors and Audio Noise Guard with LED Trace Path Lighting
- RGB FUSION 2.0 Supports Addressable LED & RGB LED Strips
- Smart Fan 6 Features Multiple Temperature Sensors , Hybrid Fan Headers with FAN STOP
- Q-Flash Plus Update BIOS without Installing the CPU, Memory and Graphics Card
* Actual support may vary by CPU.


Direct 6+2 Phases Digital VRM Solution with Low RDS(on) MOSFETs
Cleaner and more efficient power delivery to the CPU with better thermal performance ensure stability under high CPU frequencies and heavy loading.
- Digital PWM Controller to deliver appropriate voltage to the CPU.
- Direct 6+2Phases Low RDS(on) MOSFETs without PWM Doublers, each power phase connects directly to the CPU.
- All-solid capacitors to improve transient response and minimize oscillation.
- 8-pin Solid Pin CPU Power Connector.


Power Architecture


Smart Fan 6
Smart Fan 6 contains several unique cooling features that ensure gaming PC maintain its performance while staying cool and quiet. Multiple fan headers can support PWM/DC fan and pump, and users can easily define each fan curve based on different temperature sensors across the board via intuitive user interface.
Headers & Sensors
- 4 PWM/DC Fan Headers
- 6 Internal Temperature Sensors
High Current Support
Each fan headers support PWM and DC fan and Water cooling Pump , and up to 24W (12V x 2A) with Over-Current Protection
Precision Control
Up to 7 temperature/fan speed control points for precise fan curve
Dual Curve Mode
Slope/Stair dual mode for different user scenario
Fan Stop
Fan can stop completely below users' specified temperature point


1 - Improve fan curve UI - We increase control points from 5 to 7 and larger fan speed graph for precise and easier fan curve control.
2 - Slope/Stair dual graph mode - Fan curve can be quickly switch with Slope and Stair modes for different user scenario. Slope is traditional and intuitive linear fan speed curve. With newly added Stair non-linear mode, fan keeps at same speed between specified temperature interval.
3 - Manual Input - For advanced users, we provide fan speed manual input for more precise control.
4 - EZ Tuning - Use can place 4 EZ Tuning points at rough temperature/fan speed, and Smart Fan 6 can quickly generate a fan curve.
5 - Fan curve profile - Fan curve profile can be saved in BIOS ROM, profile will be kept after updating BIOS.


FAN STOP
Achieve fan silence. With Fan Stop, map any fan to stop completely when temperatures drop below a specified threshold. Which fan stops, based on readings from which sensor, and at what temperature—all of it can be customized to your liking.


Support for DDR4 XMP Up to 4600MHz and Beyond*
GIGABYTE is offering a tested and proven platform that ensures proper compatibility with profiles up to 4600MHz and beyond. All users need to do to attain this performance boost is to ensure that their memory module is XMP capable and that the XMP function is activated and enabled on their GIGABYTE motherboard.
* XMP Profile support may vary depending on memory module.


Memory Layout - Daisy Chain Design
With the optimized daisy-chain routing, the B560 Ultra Duable motherboard provides a proven speed of up to DDR4-4600+ MHz with high-density Memory module*. Optimized daisy-chained routing eliminates the stub effect, pushes the one DIMM per channel in dual channel interleaving mode to hit higher memory frequencies, providing professional gamers a denser and faster system memory experience.
*Performance may vary in circumstances. Please refer to the QVL list for detail support information.


Single 32GB Support
The maximum memory capacity on the B560 motherboard is 128GB. After Intel updated the memory reference code, a single slot can support up to 32GB. Therefore with populated 2 DIMM per channel on both channel, total memory capacity is 128GB, which was only available on High End Desktop (HEDT) platforms. For users who always run out of memory capacity, there is more bandwidth now for memory-intensive application such as rendering and video editing.


Full PCIe 4.0* Design


High-End Audio Capacitors
GIGABYTE motherboards use high-end audio capacitors. These high quality capacitors help deliver high resolution and high fidelity audio to provide the most realistic sound effects for gamers.
Audio Noise Guard
GIGABYTE motherboards feature an audio noise guard that essentially separates the board's sensitive analog audio components from potential noise pollution at the PCB level.


Dual PCIe 4.0/3.0 x4 M.2 Connectors
GIGABYTE Ultra Durable Motherboards are focused on delivering M.2 technology to enthusiasts who want to maximize their Systems' potential.
* PCIe 4.0 support varies by processor installed, refer product spec for further details.


Exclusive Realtek 8118 Gaming LAN
High Speed Gigabit LAN with Automatic Bandwidth Allocation
Realtek 8118 LAN is a high performance and friendly network chip for gaming players with automatic bandwidth allocation to ensure the highest network priority of the game or application. It can provide users the most comprehensive features and the fastest and smoothest Internet experience.
Program On Top Gets Highest Priority


Real-Time Network Monitoring


Connecting the Future - USB Type-C®
The World's Next Universal Connector Reversible USB Type-C® with USB 3.2 Gen1
The USB Type-C® is a new reversible connector that is loaded with useful features such as USB 3.2 Gen1 support for 10Gb/s transfer speed. Powered by the Intel® USB 3.2 Gen1 controller, this little port provides the best USB Type-C® experience possible.


RGB FUSION 2.0
With B560 Motherboard, RGB Fusion 2.0 is even better with Addressable LEDs.* RGB Fusion 2.0 offers users the option to control onboard RGB and external RGB / Addressable LED light strips for their PC. Already feature filled with colors and patterns, RGB Fusion 2.0 on B560 Series Motherboards are now upgraded with Addressable LED support. With external Addressable LED strips*, where each LED is digitally addressable, users can experience even more patterns, styles, and illuminations.
With B560 Motherboard will support either 5v or 12v Addressable LED lighting strips and up to 300 LED lights. RGB Fusion 2.0 with Addressable LEDs comes with new patterns and various speed settings with more to come.
* Addressable LEDs are available only on select Motherboards, external LED Strips, Addressable LED Strips are not included with Motherboard purchase.


RGB FUSION Software
With an integrated intuitive user interface, the RGB Fusion 2.0 provides you a better solution for customizing the lighting effects across all supported devices. From motherboards, graphics cards to the peripheral products, you can personalize your gaming rig with your own style and show off your build by sharing the profiles. In addition, the new gaming mode makes the lighting effects interactive with selected games to bring you the most immersive gaming experience.


GIGABYTE RGB Fusion APP
Don't just make your PC shine, make it a work of art that friends will envy. With the GIGABYTE RGB Fusion mobile app users can watch as they control the lighting within their gaming PC. This gives users ease of access as they try and adjust colors and speeds for different modes, all this can be achieved away from the keyboard and monitor of their PC.


Solid Pin Power Connectors
B560 motherboards feature solid plated ATX 12V 8pin power connectors to offer a stable power supply during CPU overloading.
Solid Pin Power connector advantages
- Larger contact area for electricity
- More metal quantity to sustain higher power and generated heat
- Ultra durable and longer lifespan


Q-Flash Plus
Update the BIOS easily without installing the CPU, memory and graphics card.
With GIGABYTE Q-Flash Plus, you don't need to install the CPU, memory and graphics card nor enter the BIOS menu to flash the BIOS. Just download and save a new BIOS file (rename to gigabyte.bin) on the USB flash drive, then press the dedicated Q-Flash Plus button and you're good to go!


START SULFURIZATION PROTECTION
Sulfur compounds in the air can penetrate tiny onboard resistors creating chemical change and causing these resistors to open or short. If either of these occurs the motherboard will fail to function. By equipping resistors with an Anti-Sulfur Design GIGABYTE gives Ultra Durable Motherboards a whole new meaning.


Refreshed BIOS
The BIOS is essential for users during initial setup to allow for the most optimal settings. With a new GUI and easier to use functionalities, GIGABYTE has been able to reinvent the BIOS to give users a better experience while setting up their new system. * Photos are for reference only. Product features may vary by model.


APP CENTER
GIGABYTE APP CENTER is a useful portal of all GIGABYTE MB utilities and drivers, you can choose any utility you want to install from APP CENTER and keep updated with the latest utilities and drivers version.


EasyTune™
GIGABYTE's EasyTune™ is a simple and easy-to-use interface that allows users to fine-tune their system settings or adjust system and memory clocks and voltages in a Windows environment. With Smart Quick Boost, one click is all it takes to automatically overclock your system, giving an added performance boost when you need it the most.


System Information Viewer
GIGABYTE System Information Viewer is a central location that gives you access to your current system status. Monitor components such as the clocks and processor, set your preferred fan speed profile, create alerts when temperatures get too high or record your system's behavior; these are the possibilities of the System Information Viewer.

CPU

LGA1200 package:
11th Generation Intel® Core™ i9 processors / Intel® Core™ i7 processors / Intel® Core™ i5 processors
10th Generation Intel® Core™ i9 processors / Intel® Core™ i7 processors / Intel® Core™ i5 processors / Intel® Core™ i3 processors/ Intel® Pentium® processors / Intel® Celeron® processors*
* Limited to processors with 4 MB Intel® Smart Cache, Intel® Celeron® G5xx5 family.
L3 cache varies with CPU
(Please refer to "CPU Support List" from Gigabyte's website for more information.)

Chipset

Intel® B560 Express Chipset

Memory

11th Generation Intel® Core™ i9/i7/i5 processors:
Support for DDR4 5333(O.C.) / DDR4 5133(O.C.) / DDR4 5000(O.C.) / 4933(O.C.) / 4800(O.C.) / 4700(O.C.) / 4600(O.C.) / 4500(O.C.) / 4400(O.C.) / 4300(O.C.) / 4266(O.C.) / 4133(O.C.) / 4000(O.C.) / 3866(O.C.) / 3800(O.C.) / 3733(O.C.) / 3666(O.C.) / 3600(O.C.) / 3466(O.C.) / 3400(O.C.) / 3333(O.C.) / 3300(O.C.) / 3200 / 3000 / 2933 / 2800 / 2666 / 2400 / 2133 MHz
10th Generation Intel® Core™ i9/i7 processors:
Support for DDR4 2933/2666/2400/2133 MHz memory modules
10th Generation Intel® Core™ i5/i3/Pentium®/Celeron® processors:
Support for DDR4 2666/2400/2133 MHz memory modules
4 x DDR4 DIMM sockets supporting up to 128 GB (32 GB single DIMM capacity) of system memory
Dual channel memory architecture
Support for ECC Un-buffered DIMM 1Rx8/2Rx8 memory modules (operate in non-ECC mode)
Support for non-ECC Un-buffered DIMM 1Rx8/2Rx8/1Rx16 memory modules
Support for Extreme Memory Profile (XMP) memory modules
(Go to GIGABYTE's website for the latest supported memory speeds and memory modules.)

Onboard Graphics

Integrated Graphics Processor-Intel® HD Graphics support:
1 x DVI-D port, supporting a maximum resolution of 1920x1200 @ 60 Hz
* The DVI-D port does not support D-Sub connection by adapter.
1 x DisplayPort, supporting a maximum resolution of 4096x2304 @ 60 Hz
* Support for DisplayPort 1.2 version and HDCP 2.3
1 x HDMI port, supporting a maximum resolution of 4096x2160 @ 30 Hz
* Support for HDMI 1.4 version and HDCP 2.3.
(Graphics specifications may vary depending on CPU support.)
Support for up to 3 displays at the same time

Audio

Realtek® Audio CODEC
High Definition Audio
2/4/5.1/7.1-channel
* To configure 7.1-channel audio, you need to open the audio software and select Device advanced settings > Playback Device to change the default setting first.

LAN

Realtek® GbE LAN chip (1 Gbps/100 Mbps)

Expansion Slots

1 x PCI Express x16 slot, running at x16
(The PCIEX16 slot conforms to PCI Express 4.0 standard.)(Note)
2 x PCI Express x1 slots
(The PCIEX1 slot conforms to PCI Express 3.0 standard.)
(Note) Supported by 11th Generation processors only.

Storage Interface

CPU:
1 x M.2 connector (Socket 3, M key, type 2260/2280/22110 PCIe 4.0 x4/x2 SSD support) (M2P_CPU)(Note)

Chipset:
1 x M.2 connector (Socket 3, M key, type 2260/2280 SATA and PCIe 3.0 x4/ x2 SSD support) (M2A_SB)
6 x SATA 6Gb/s connectors
* Refer to "1-7 Internal Connectors," for the installation notices for the M.2 and SATA connectors.
Intel® Optane™ Memory Ready
* System acceleration with Intel® Optane™ Memory can only be enabled on the M2P_CPU connector and with an 11th Generation Intel® processor installed.

(Note) Supported by 11th Generation processors only.

USB

Chipset:
1 x USB Type-C® port on the back panel, with USB 3.2 Gen 1 support
5 x USB 3.2 Gen 1 ports (3 ports on the back panel, 2 ports available through the internal USB header)
4 x USB 2.0/1.1 ports (2 ports on the back panel, 2 ports available through the internal USB header)

Chipset+USB 2.0 Hub:
2 x USB 2.0/1.1 ports available through the internal USB headers

Internal I/O Connectors

1 x 24-pin ATX main power connector
1 x 8-pin ATX 12V power connector
1 x CPU fan header
3 x system fan headers
1 x addressable LED strip header
1 x RGB LED strip header
6 x SATA 6Gb/s connectors
2 x M.2 Socket 3 connectors
1 x front panel header
1 x front panel audio header
1 x USB 3.2 Gen 1 header
2 x USB 2.0/1.1 headers
1 x Trusted Platform Module header (For the GC-TPM2.0 SPI/GC-TPM2.0 SPI 2.0 module only)
1 x serial port header
1 x parallel port header
1 x Clear CMOS jumper
1 x Q-Flash Plus button
*All fan headers are subject to support AIO_Pump, Pump and high performance fan with the capability of delivering up to 2A/12V @ 24W.

Back Panel Connectors

2 x USB 2.0/1.1 ports
1 x PS/2 keyboard/mouse port
1 x DVI-D port
1 x DisplayPort
1 x HDMI port
3 x USB 3.2 Gen 1 ports
1 x USB Type-C® port, with USB 3.2 Gen 1 support
1 x RJ-45 port
3 x audio jacks

I/O Controller

iTE® I/O Controller Chip

H/W Monitoring

Voltage detection
Temperature detection
Fan speed detection
Fan fail warning
Fan speed control
* Whether the fan speed control function is supported will depend on the fan you install.

BIOS

1 x 256 Mbit flash
Use of licensed AMI UEFI BIOS
PnP 1.0a, DMI 2.7, WfM 2.0, SM BIOS 2.7, ACPI 5.0

Unique Features

Support for APP Center
* Available applications in APP Center may vary by motherboard model. Supported functions of each application may also vary depending on motherboard specifications.
@BIOS
EasyTune
Fast Boot
Game Boost
ON/OFF Charge
RGB Fusion
Smart Backup
System Information Viewer
Support for Q-Flash Plus
Support for Q-Flash
Support for Xpress Install

Bundled Software

Norton® Internet Security (OEM version)
Realtek® 8118 Gaming LAN Bandwidth Control Utility

Operating System

Support for Windows 10 64-bit

Form Factor

Micro ATX Form Factor; 24.4cm x 24.4cm
Allowances
As an international traveller you are entitled to bring a certain amount/value of goods that are free of Customs duty and exempt Goods and Services tax (GST) into New Zealand. This is called your duty free allowance and personal goods concession. It is important to review these for any purchases you make on The Mall.
Your duty free allowance entitles you to bring into New Zealand the following quantities of alcohol products free of customs duty and GST provided you are over 17 years of age. You do need to be 18 years or over to purchase.
Up to six bottles (4.5 litres) of wine, champagne, port or sherry or
Up to twelve cans (4.5 litres) of beer
And three bottles (or other containers) each containing not more than 1125ml of spirits, liqueur, or other spirituous beverages

Goods other than alcohol and tobacco, whether purchased overseas or purchased duty free in New Zealand, that have a combined total value not exceeding NZ$700 may also be brought as part of your personal goods concession.
When travelling overseas there are legal limits on the amount of duty free alcohol and other goods you can take with you. These amounts will vary depending on the country you are flying into. We always recommend you check the latest limits and exemptions.
Click & Collect
Your order can be picked up at an Auckland Airport Collection Point. There is one in departures and one at arrivals in the international terminal. See map
You will need to bring your order confirmation email and show your passport to collect your order.
If you're departing Auckland Airport, we recommend that you come to the Auckland Airport Collection Point at least 60 minutes before your flight. If you miss your pickup time or your flight details have changed please let us know as soon as possible.
When you collect your order you will have the opportunity to inspect the items and sign for them.
If you need to return an item, our Collection Point team are there to help you. You may also like to view our Returns & refunds which provides information on how this works and outlines the individual retailer's returns and refunds policies.
Gigabyte
Gigabyte B560M DS3H V2 mATX Form Factor,
Pick up from AKL International Airport:
Some items are only available for pick up at departure.
Pick up from AKL International Airport:
Some items are only available for pick up at departure.