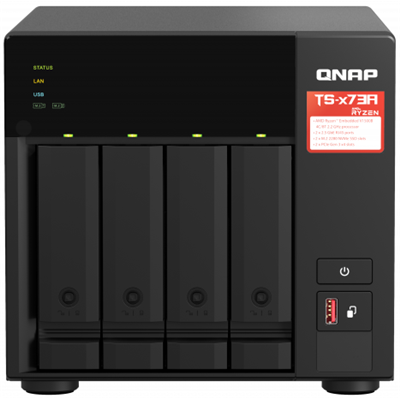 QNAP
QNAP TS-473A-8G Business High-End 4-Bay NAS Server,
Product Id NASQNP47318
View all QNAP
Sold by PB Tech
Description
QNAP TS-473A-8G 4-Bay NAS Server, AMD Ryzen V1500B 4C/8T 2.2GHz, 8GB RAM, 2x M.2, 2x 2.5GbE LAN, 2x PCIe Expansion Slot, 2x USB3.2 Gen2, 1x USB Type-C, 3 Years Warranty

AMD Ryzen™ quad-core 2.2 GHz 2.5GbE NAS supports M.2 NVMe SSD and PCIe expansion for adding 10GbE high-speed connectivity and M.2 SSD; QTS and QuTS hero dual operating system for greater flexibility
Featuring an AMD Ryzen™ V1000 series V1500B quad-core processor that delivers great system performance with up to quad-core / 8 threads and Turbo Core up to 2.2 GHz. The TS-473A features two 2.5GbE RJ45 ports and two PCIe Gen 3 slots for you to flexibly deploy 5GbE/10GbE networks. Two M.2 NVMe SSD slots for Qtier Technology and SSD Caching enable constant storage optimization. The TS-473A supports QTS and QuTS hero, allowing users to flexibly switch operating system based on their requirements.
2.5GbE connectivity
- Both 2.5GbE ports are backwards compatible with 1GbE/ 100MbE speeds. Up to 5 Gbps transfer speeds can be achieved by using port trunking.
Flexible PCIe expansion
- Add extra functionality with PCIe cards, including 10GbE ports, SSD caching, extra USB 3.2 Gen 2 ports, wireless networking, or Fibre Channel.
GPU applications
- Supports entry-level NVIDIA® graphics cards for video processing or GPU-passthrough to VMs.
SSD cache acceleration
- Features two M.2 PCIe NVMe SSD slots for Qtier Technology and SSD Caching enable constant storage optimization.
Virtualization applications
- Host containerized applications and virtual machines with various operating systems.
Supports QTS/QuTS hero OS
- Features QTS operating system and supports switching to ZFS-based QuTS hero for greater reliability.
High performance AMD Ryzen™ processor
The TS-473A is powered by an AMD Ryzen™ V1000 series V1500 quad-core 2.2 GHz processor with up to 64GB RAM (ECC memory is supported*) and features USB 3.2 Gen 2 ports for speeds up to 10 Gb/s. The TS-473A also provides one USB Type-C port for supporting more devices to transfer large media files across devices, providing you with a more efficient workflow.
* Using ECC memory requires the removal of pre-installed memory, as you cannot use non-ECC memory with ECC memory.
Transform your network with a wallet-friendly 2.5GbE switch
Upgrading your network shouldn't break the bank, and 2.5GbE connectivity provides immediately noticeable improvements compared to standard 1GbE. QNAP offers 2.5GbE switches that supports Multi-Gigabit NBASE-T™ and allows you to use existing CAT5e cables to connect multiple computers and NAS, assisting organizations in implementing high-speed, secure and scalable network environments without going over budget.

Switch operating systems for optimal data integrity and reliability
The TS-473A also supports QuTS hero - QNAP's ZFS-based NAS operating system. Providing end-to-end data integrity, data reduction (inline data deduplication, compression and compaction), and much more, QuTS hero uses additional system resources to ensure an optimal environment for protecting business data.
Note:
1. QTS and QuTS hero use different file systems. You must remove all the drives from the TS-473A before switching from QTS to QuTS hero.
2. QuTS hero requires a NAS with at least 8 GB memory.
3. Inline Data Deduplication requires a NAS with at least 16 GB memory (at least 32 GB memory is recommended for optimal performance).
4. It is recommended to create an SSD RAID with at least two SSDs for the QuTS hero system drive to attain optimal system performance. Please note that M.2 SSD hot-swapping is only supported by M.2 SSD slots on PCIe cards (such as the QM2). M.2 SSD slots that are built into the NAS do not support hot-swapping.

Obtain performance benefits from M.2 SSD caching
The TS-473A features 2 M.2 NVMe SSD slots for you to enjoy SSD caching or Qtier auto tiering Technology
Improve random data access speeds with an SSD cache
SSD caches accelerate IOPS performance and reduce latency for storage volumes. They are perfect for IOPS-demanding applications (including databases and virtualization) and can significantly improve overall workflows.
Maximize the value of SSDs with Qtier Technology
Qtier™ Technology empowers the TS-473A with auto tiering that helps continuously optimize storage efficiency by automatically moving data between M.2 SSDs, 2.5-inch SSDs, and high-capacity HDDs based on the data's access frequency. Qtier™ 2.0 features IO-awareness that empowers SSD-tiered storage with a cache-like reserved space to handle burst I/O in real time, greatly maximizing the advantages of SSDs.
Note: Qtier Technology is supported by QTS
Upgrade to 10GbE and abundant capability with PCIe expansion
The TS-473A features two PCIe Gen 3 x4 slots that allows for various expansion cards for expanding application potential.
Note: TS-473A uses low-profile expansion cards
Easy and Secure File Management
File Station allows direct management of files stored on the TS-473A and in the cloud. Users can easily upload files from their PC, drag/drop files between folders, rename/delete files, and configure file/folder permissions to prevent unauthorized access. Microsoft Office Online can also be used to directly view/edit Microsoft Office documents stored on the TS-473A. Confidential/sensitive data can be encrypted to add extra security.
Install a graphics card for GPU-accelerated computing
Graphics cards are optimized for graphical calculations and transformations, but require significantly more power than other hardware. The TS-473A features PCIe slots to support low-profile graphics cards that do not need power cables, including NVIDIA® GeForce® GTX1650 graphics cards to boost performance of applications such as video editing , 4K UHD transcoding, imaging processing in QTS and performance of virtual machines via GPU passthrough.
Note:
1. Supported video formats depend on the hardware and software specifications of the devices. Playback capability and quality may vary due to factors including the original file formats/quality, hardware and software limitations, and output devices.
2. When Virtualization Station uses graphics cards, the NAS will temporarily stop hardware transcoding acceleration for QTS (and vice versa).
3. Consult the Compatibility List for information on supported NAS and graphics cards.

Build an affordable Fibre Channel SAN environment
Common Fibre Channel Storage Area Networks (SAN) devices are often costly. By installing a QNAP 16Gb Fibre Channel card (QXP-16G2FC 16Gb) in the TS-473A, you can set a Fibre Channel Target using the iSCSI & Fibre Channel app. Moreover, the LUN Masking and Port Binding features provide an additional layer of data security.

High-speed 2.5GbE VM Backup Solution
With Hyper Data Protector, the TS-473A becomes an agentless backup tool for unlimited VMware® vSphere and Microsoft® Hyper-V VM backup. Hyper Data Protector features incremental backup, global deduplication, backup scheduling and recovery compression. With 2.5GbE connectivity, backup and restoration times are greatly reduced, providing a cost-effective solution for disaster recovery.
QNAP Backup & Data Protection Solutions: Complete Apps & Utilities at Your Fingertips
QNAP provides comprehensive solutions for virtually all data protection requirements. Discover an array of apps/utilities to help you back up various sources, including:
Boxafe - Google Workspace (G Suite) /Microsoft 365 SaaS backup
Hyper Data Protector - VMware vSphere/Microsoft Hyper-V VM backup
Hybrid Backup Sync - QNAP NAS/file server/macOS backup
NetBak Replicator - Windows backup
Snapshot - QNAP NAS protection/backup
Flexible and economical storage expansion
QNAP provides easy storage capacity expansion solutions. Here are several ways to expand your TS-473A storage as needed to accommodate data and business growth.

Upgrade RAID Capacity
Hot-swap lower-capacity drives with larger-capacity drives to expand your NAS capacity so it can grow with your business.

Attach Expansion Enclosures
Connect two TR-004 RAID expansion enclosures, or one 8-bay TL-D800S SATA 6 Gb/s JBOD, and use the QTS Storage & Snapshots Manager to easily handle NAS capacity expansion.

Migrate to a New NAS
Install your NAS hard drives into a larger QNAP NAS and retain all your existing data and configurations.
More productivity applications

Qsirch
QNAP's powerful, Google-like search tool for quickly finding specific images, music, videos, documents, and emails by keywords, color, and more search conditions.

Boxafe
Backup/sync files, emails, calendars and contacts from Google™ Workspace and Microsoft® Office 365® into the TS-473A to safeguard enterprise cloud data.

QuMagie
An AI-powered photo management app, supporting automated photo categorization with AI Albums, iOS® Live Photo display, and powerful search tool for ultimate photo management and sharing solution.

Hardware
CPU
AMD Ryzen™ Embedded V1500B 4-core/8-thread 2.2 GHz processor
CPU Architecture
64-bit x86
Graphic Processors
Optional via a PCIe adapter
Floating Point Unit
Yes
Encryption Engine
Yes (AES-NI)
Hardware-accelerated Transcoding
Optional via a PCIe adapter
System Memory
8 GB SO-DIMM DDR4 (1 x 8 GB)
Maximum Memory
64 GB (2 x 32 GB)
Memory Slot
2 x SO-DIMM DDR4
Support ECC memory
(For dual-DIMM configurations, you must use a pair of identical DDR4 modules.)
Flash Memory
5GB (Dual boot OS protection)
Drive Bay
4 x 3.5-inch SATA 6Gb/s, 3Gb/s
Drive Compatibility
3.5-inch SATA hard disk drives
2.5-inch SATA hard disk drives
2.5-inch SATA solid state drives
Hot-swappable
Yes (The following are not hot-swappable: M.2 SSDs, SSD cache drives, SSDs using PCIe expansion slots)
M.2 Slot
2 x M.2 2280 PCIe Gen3 x1 slots
The M.2 SSD is not included as standard.
M.2 SSD operations can easily generate excessive heat. It is recommended to install a heatsink (from QNAP or a third-party provider) on the M.2 SSD.
SSD Cache Acceleration Support
Yes
GPU pass-through
Yes
2.5 Gigabit Ethernet Port (2.5G/1G/100M)
2
5 Gigabit Ethernet Port (5G/2.5G/1G/100M)
Optional via a PCIe adapter
10 Gigabit Ethernet Port
Optional via a PCIe adapter
Wake on LAN (WOL)
Yes
Jumbo Frame
Yes
PCIe Slot
2
Slot 1: PCIe Gen 3 x4
Slot 2: PCIe Gen 3 x4
USB 3.2 Gen 2 (10Gbps) Port
3 x Type-A USB 3.2 Gen 2 5V/1A 10Gbps
1 x Type-C USB 3.2 Gen 1 5V/1A 5Gbps
HDMI Output
Optional via a PCIe adapter
Form Factor
Tower
LED Indicators
Status/Power, USB, LAN, Drive 1-4, M.2 SSD 1-2
Buttons
Power, Reset, USB Auto Copy
Dimensions (HxWxD)
188.2 × 199.3 × 280.8 mm
Weight (Net)
5.03 kg
Weight (Gross)
6.04 kg
Operating temperature
0 - 40 °C (32°F - 104°F)
Storage Temperature
-20 - 70°C (-4°F - 158°F)
Relative Humidity
5-95% RH non-condensing, wet bulb: 27°C (80.6°F)
Power Supply Unit
250W, 100-240V AC, 50-60Hz, 3.5A
Power Consumption: HDD Sleep Mode
19.576 W
Power Consumption: Operating Mode, Typical
29.792 W
Tested with drives fully populated.
Fan
System fan: 1 x 120mm
CPU fan: 1 x 60mm
System Warning
Buzzer
Max. Number of Concurrent Connections (CIFS) - with Max. Memory
2000
Software
Operating System
QuTS hero h5.0.0
Supported Client Operating Systems
Apple Mac OS 10.10 or later
Ubuntu 14.04, CentOS 7, RHEL 6.6, SUSE 12 or later Linux
IBM AIX 7, Solaris 10 or later UNIX
Microsoft Windows 7, 8, and 10
Microsoft Windows Server 2008 R2, 2012, 2012 R2, 2016, and 2019
Supported Browsers
Apple Safari (latest version)
Google Chrome (latest version)
Microsoft Edge (latest version)
Mozilla Firefox (latest version)
Supported Languages
Chinese (Traditional & Simplified), Czech, Danish, Dutch, English, Finnish, French, German, Greek, Hungarian, Italian, Japanese, Korean, Norwegian, Polish, Portuguese (Brazil), Romanian, Russian, Spanish, Swedish, Thai, and Turkish
Storage Pool
Yes
SED Storage Pool
Yes
Maximum Pool size
1024 TB
Maximum number of storage pool
128
Shared Folder Type
Thick, Thin
Maximum shared folder size
1024 TB
Maximum number of shared folder
256
JBOD Expansion
Yes
VJBOD / VJBOD Cloud
Yes
iSCSI Service
Yes
Fibre Channel Service
Yes
LUN Type
Thick, Thin
Block-based iSCSI LUN
Yes
Maximum LUN size
1024 TB
Maximum number of targets LUN
256
RAID Type
Single, RAID 0, 1, 5, 6, 10, 50, 60, Triple Mirror, Triple Parity
RAID Group
Yes
(To ensure data security, system stability, and storage performance, the maximum number of drives for a single RAID group is now 16 (applicable to RAID 5, RAID 6, RAID TP, and subgroups of RAID 50 and RAID 60). Nevertheless, users can combine multiple RAID groups into a large storage pool that contains more than 16 drives, using RAID 50, RAID 60, or RAID 10 as the RAID configuration. This enhancement will only be applied to new RAID groups. All existing RAID groups and storage systems will not be affected)
RAID Expansion (by replacing bigger Disks)
Yes
Storage Pool Expansion (by adding RAID Group)
Yes
RAID Hot Spare
Global, Local
RAID Sync/Rebuild/Scrubbing
Yes
End-to-End data integrity
Yes
Silent error detection and self-healing
Yes
Internal drive
ZFS
External drive
EXT3, EXT4, NTFS, FAT32, HFS+, and exFAT
Disk, Enclosure Locate
Yes
Disk S.M.A.R.T. Scan
Yes
Disk S.M.A.R.T. Data Migration
Yes
Ironwolf Health Management
Yes
Secure Erase
Yes
SSD Trim
Yes
SSD Life Estimation
Yes
Disk Roaming
Yes
Disk Standby
Yes
Shared Folder Snapshot
Yes
LUN Snapshot
Yes
Maximum Snapshot (Per System)
Check maximum number of snapshots of your NAS
Maximum Snapshot (Per Volume / LUN)
Check maximum number of snapshots of your NAS
Minimum Snapshot Interval
1 minute
Snapshot Retention Policy
Yes
Self-serve Snapshot Recovery
Yes
Application Consisted Snapshot
Yes
Snapshot Full Clone
Yes
Snapshot Instant Clone
Yes
Snapshot Replica / Vault
Yes
SSD read-only Cache
Yes
SSD read & write log cache
Yes
SSD dedicated ZIL cache
Yes
SSD Cache Maximum Size
Check your QNAP NAS cache capacity and RAM requirements
SSD Cache RAID
0, 1, 10 (journal)
External Device Management
Yes
Mount Smart Phone (MTP)
Yes
External RAID Device (QNAP so on) Management (External Device Mode)
Yes
External RAID Device (QNAP so on) Management (NAS Mode)
Yes
File Server
File sharing across Windows, Mac, and Linux/UNIX
Microsoft networking (CIFS/SMB)
Apple networking (AFP)
NFS version 3/4 services
FTP Server
FTP, SFTP and TFTP protocols
FTP over SSL/TLS (explicit FTPS)
FXP support
Maximum FTP connection
1024
Shared Folder Data Compression
Yes
Shared Folder Data Deduplication
Yes
Shared Folder WORM
Yes
File Station (Web)
Yes
Object Storage
Yes
Local user account
16,000
Local group account
512
Domain user/group account
200,000
Domain Security
Yes
Domain Controller
Yes
Shared folder permission
Yes
Windows ACL
Yes
User quota
Yes
Group quota
Yes
Folder quota
Yes
Home folder
Yes
Resource Monitor
Yes
SNMP
V2, V3
Network recycle bin
Recover files deleted using AFP, CIFS/SMB, and File Station
Automatic cleanup and file type filter
System Log & Notification Center
Log recording: 3,000 event per hour
Smart Fan
Yes
Schedule on/off
Yes
Internet protocol
IPv4, IPv6
Virtual Switch
Yes
Port trunking
Yes, (7 modes)
VLAN
Yes
DHCP Server
Yes
DDNS (Dynamic Domain Name Service)
Yes
Network access protection with auto-blocking
SSH, Telnet, HTTP(S), FTP, CIFS/SMB, and AFP
Security Counselor
Yes
Malware Remover
Yes
AES 256-bit Folder Encryption validated by FIPS 140-2 CAVP
Yes
2-step verification
Yes
Allow/Deny List
Yes
Access Protection
Yes
Service binding
Yes
Firewall
Yes
vSphere Web Client Plug-in
Yes
VMware vSphere VAAI for iSCSI
Yes
VMware vSphere VAAI for NAS
Yes
Windows ODX
Yes
Windows/VMware Snapshot Agent
Yes
HTTP/HTTPS Connections
TLS 1.0/1.1/1.2/1.3
Supports WebDAV Connection
Yes
Supports Virtual Hosts
32
Qsync
Yes (Note: At least 1 GB RAM is required)
[Qsync] Management Mode
User customization, Central
[Qsync] Qsync client supported platforms
Windows, macOS, Ubuntu, Android, and iOS
[Qsync] Maximum number of version control
64
HybridMount
Yes (Note: At least 1 GB RAM is required)
[HybridMount] File Cloud Gateway
Concurrent Connections = 80 Upload & 80 Download
[HybridMount] Network Drive Mount
Yes
[HybridMount] Free cloud gateway sessions
2
HBS (Hybrid Backup Sync)
Yes (Note: At least 1 GB RAM is required)
[HBS (Hybrid Backup Sync)] NAS to NAS backup
Yes
[HBS (Hybrid Backup Sync)] Cloud Backup
Yes
[HBS (Hybrid Backup Sync)] Cloud Sync
Yes
[HBS (Hybrid Backup Sync)] 2-way and Active Sync
Yes
[HBS (Hybrid Backup Sync)] Backup Deduplication
Yes
[HBS (Hybrid Backup Sync)] Apple Time Machine Backup
Yes
[HBS (Hybrid Backup Sync)] External drive backup
Yes
[HBS (Hybrid Backup Sync)] Maximum number of backup job
400
Hyper Data Protector
Yes
Boxafe
Yes (Note: At least 1 GB RAM is required)
[Boxafe] Office 365 Backup
Yes
[Boxafe] Google Workspace Backup
Yes
[Boxafe] Full-text search
Yes
Qsirch
Yes (Note: This feature is supported by all QNAP NAS devices with at least 2 GB of memory)
[Qsirch] Previews
Photos, music, videos, PDFs, Gmail, and others
[Qsirch] Integrate Mac Finder
Yes
[Qsirch] Advanced picture search
Yes
[Qsirch] Search filters
Yes
QuMagie
Yes (Note: At least 1 GB RAM is required)
[QuMagie] Browse photos
Yes
[QuMagie] Virtual and smart albums
Yes
[QuMagie] AI-assisted photo management
People, things, places, and others
Antivirus (free)
Yes
McAfee (License)
Yes
QVPN Service
Yes (Note: At least 1 GB RAM is required)
[QVPN Service] Remote Access
PPTP, L2TP/IPSec, OpenVPN, QBelt (QNAP proprietary)
[QVPN Service] Supportedd utility and mobile app
Windows, macOS, iOS, and Android
[QVPN Service] Supported maximum clients
100
HD Station
Yes
LDAP Server
Yes
RADIUS
Yes
SQL server
Yes
License Center
Yes
Multimedia Console
Yes
Photo Station
Yes
Music Station
Yes
Video Station
Yes
Download Station
Yes
Notes Station
Yes
Qfiling
Yes
Media Streaming add-on
Yes
QmailAgent
Yes
QuWAN
Yes
DA Driver Analyzer
Yes
Q'center
Yes (Note: The application is available in the App Center and in virtual appliance marketplaces (VMware vSphere ESXi and Microsoft Hyper-V)
Q'center Server
Yes
Q'center Agent
Yes
Connect to Q'center
Yes
Virtualization Station
Yes (Note: At least 4 GB RAM is required)
[Virtualization Station] Supports Virtual machine instances
Windows, Linux, Unix, and Android
[Virtualization Station] VM importing, exporting, cloning, snapshot capturing, backup, and restoration
All function is Fine.
[Virtualization Station] Virtual switches
Can create a virtual switch
[Virtualization Station] GPU pass-through
GPU function is fine
[Virtualization Station] Suggested number of virtual machine instances
8 (The actual number of virtual machine instances may vary by the memory installed on NAS (e.g. 1 VM= 1 thread for 1 vCPU and 1GB memory). Please expend memory if needed)
Container Station
Yes (Note: At least 1 GB RAM is required)
[Container Station] Supported type
LXC/LXD and Docker (Note: LXD has been supported after Container Station 2.4)
[Container Station] Docker Hub Registry
Yes
[Container Station] Container importing and exporting
Yes
[Container Station] Console mode
Yes
Linux Station
Yes (Notification: At least 4 GB RAM is required)
[Linux Station] Supports Ubuntu versions
16.04, 18.04, and 20.04
Linux Station Center
Yes
QVR Elite
Yes (Note: At least 1 GB RAM is required. The maximum number of channels supported varies by NAS model, network configuration, and camera settings. For more information, visit https://www.qnap.com/go/qvr-nas-selector)
[QVR Elite] Recording Technique
Standard MP4 file based
[QVR Elite] License Type
Subscription-based
[QVR Elite] User-defined trigger events
Yes
[QVR Elite] QVR Pro Client (Desktop)
Windows, macOS, and QNAP HybridDesk Station
[QVR Elite] QVR Pro Client (Mobile)
Android and iOS
[QVR Elite] Recording camera streams
H.264
[QVR Elite] Free built-in camera channels
2
[QVR Elite] Expandable camera channels
Developing
[QVR Pro Client] Live 4K H.265 (6M) channel Number @ 8 x 1080P H.264 recording channls (Use HybridDesktop Platform) (Expected)
N/A
[QVR Pro Client] Live 1080P H.264 (5M) channel Number @ 8 x 1080P H.264 recording channls (Use HybridDesktop Platform) (Expected)
N/A
[QVR Pro Client] Live 720P (3M) H.264 channel Number @ 8 x 1080P H.264 recording channls (Use HybridDesktop Platform) (Expected)
N/A
QVR Center
Yes (Note: At least 4 GB RAM is required)
[QVR Center] Log management
Yes
[QVR Center] Central monitoring across multiple servers
Yes
Allowances
As an international traveller you are entitled to bring a certain amount/value of goods that are free of Customs duty and exempt Goods and Services tax (GST) into New Zealand. This is called your duty free allowance and personal goods concession. It is important to review these for any purchases you make on The Mall.
Your duty free allowance entitles you to bring into New Zealand the following quantities of alcohol products free of customs duty and GST provided you are over 17 years of age. You do need to be 18 years or over to purchase.
Up to six bottles (4.5 litres) of wine, champagne, port or sherry or
Up to twelve cans (4.5 litres) of beer
And three bottles (or other containers) each containing not more than 1125ml of spirits, liqueur, or other spirituous beverages

Goods other than alcohol and tobacco, whether purchased overseas or purchased duty free in New Zealand, that have a combined total value not exceeding NZ$700 may also be brought as part of your personal goods concession.
When travelling overseas there are legal limits on the amount of duty free alcohol and other goods you can take with you. These amounts will vary depending on the country you are flying into. We always recommend you check the latest limits and exemptions.
Click & Collect
Your order can be picked up at an Auckland Airport Collection Point. There is one in departures and one at arrivals in the international terminal. See map
You will need to bring your order confirmation email and show your passport to collect your order.
If you're departing Auckland Airport, we recommend that you come to the Auckland Airport Collection Point at least 60 minutes before your flight. If you miss your pickup time or your flight details have changed please let us know as soon as possible.
When you collect your order you will have the opportunity to inspect the items and sign for them.
If you need to return an item, our Collection Point team are there to help you. You may also like to view our Returns & refunds which provides information on how this works and outlines the individual retailer's returns and refunds policies.
QNAP
QNAP TS-473A-8G Business High-End 4-Bay NAS Server,
Sorry we are temporarily out of stock.
Pick up from AKL International Airport:
Some items are only available for pick up at departure.
Sorry we are temporarily out of stock.
Pick up from AKL International Airport:
Some items are only available for pick up at departure.